Email overload is a reality. FIY, 150k emails are sent every single minute! The volume tends to keep increasing, and many people stay lots of hours daily in their inboxes.
If you stop and think about the kinds of emails you receive, you will probably categorize them in different labels, such as:


Emails from people close to you;




Emails from peers;




Newsletters you signed up;




Newsletters you DIDN`T signed up;




Spams




So what does that mean? When people stay long hours in email, they are actually wasting time. And the more they keep using it, more time of productivity is left behind.
In order to regain this time you lost, there are some tips you can easily apply to your inbox, here they are:
Define specific times for you to be on your email
Another thing that people get tricked into all the time is the time spent in email. Although it may sound simple to be quick with your messages, many users still spend huge amount of hours daily dealing with their inboxes.

Scheduling times for Gmail is very easy, you simply need to turn off notifications and schedule 15 to 30 minutes time slots during your day — you can start doing it 3 times a day and then going to 2, or even only one. You'll see the difference it makes.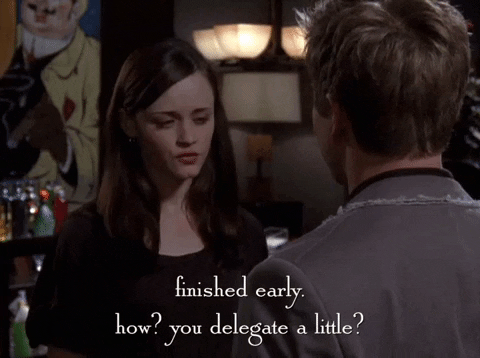 Delegate
Almost 8 years ago, Google launched Gmail delegation, that allows you to provide someone else with access to your inbox and emails. This is great for executives who use an executive assistant to manage their email and calendar for them.

This functionality may be very useful in various situations. However, there are some limitations that may be real deal-breakers for teams to delegate emails in a productive – and secure – manner.

What a delegate can do:

View your inbox;




Reply to emails on your behalf;




Manage your contacts;




Delete your emails.
What a delegate can't do:

Change your password;




Change any of your Gmail settings.




Send and receive chats messages;




Sometimes it's faster for one of your team to get stuff done. Delegating an email makes this possible. Imagine how productive you could be if you only deal with the emails that you need to?

Drag was launched having email delegation as one of the biggest use cases. Drag turns Gmail into Trello-like (Kanban) boards, that you can share with your assistant or your team. You can use Drag to delegate emails in Gmail easily without any of the limitations brought by Gmail delegation.
Declutter your email inbox
It's not a secret to anyone. However, people unconsciously get attached to their messages and never let go of them.

Letting emails go is a natural part of the process, so don't think too much about it and just let go of them. After all, more emails will come, and old emails won't be used anymore. Don't be afraid to use the delete button. It is your best friend when it comes to keeping your inbox organized.

In case an email is truly important, there are some things you can do with it:

add it to a folder;




archive it, so it will be easily found in the future;




snooze it.

Drag: the next step of organization
Once you change your mindset into being efficient and using email during less time through the day, you will see that some other changes will start to happen naturally. To be honest, during my years of work experience, I've noticed how much more productive I can become when I spend less time on email. In this case, other tools can help you keep improving, it's the case with Drag.

That's why we have created an evolutionof email and task management right here in Drag – why not having labels, folders, tabs, tasks, notes, due dates, boards, all beautifully visualized in amazing Trello-like boards?

By merging different technologies in a simple way, our solution provides an excellent experience while it also simplifies your life.

Besides the traditional Gmail organization tools, Drag allows you to:


Organize Emails in Trello-like, customizable lists




Add standalone tasks to your Inbox




Add notes, checklists, and due dates to Emails




Sort & filter emails




Add multiple boards




Collaborate on Emails and tasks with your team-mates
Conclusion
Email overload is a burden that happens with lots of people. In order to avoid that, you need to make use of some tools and habits. They will not only declutter your inbox, but also keep you more focused and efficient.

Organizing your inbox is very simple, but it might hide some traps sometimes. Which is why you need to be aware of tips that can make things much easier.

Also, by centralizing your team's work in a single place, your processes get quicker. Consequently, your customers get happier and your company sell more. We truly believe that current solutions don't solvethe problem as well as it can be solved. This is why we're introducing Drag as a disruptive tool, working straight from your Gmail inbox as a collaborative and visual tool.
---
Learn more about the benefits in Shared inboxes. Download Drag's "The Ultimate Guide to Transform your Business with Shared Inboxes". We did it to create awareness in companies in what concerns increasing productivity by using online tools. Click on the button below:
Learn how to Transform your Business with Shared Inboxes by downloading our Ebook!
About Drag
Drag is a shared inbox, inside Gmail, for teams to manage emails, tasks, helpdesk and more from one single place. Try Drag for free.