When you are in a small business, sometimes money is short and you need to be practical with your expenses. A good way to go is investing in tools and tactics that will help you boost your productivity and make your work achieve higher standards. 
Have you ever heard of Kanban?
If you don't recall, you have probably interacted with a Kanban board before. Kanban is a productivity methodology that consists of transforming tasks into cards. Very simple but yet revolutionary. A great deal of transforming everything into cards is to allocate them into lists, create a better visualization and make it easy to work with it by associating tasks with steps to be taken (it is almost like a game). There are several Kanban apps out there: Trello, Asana, Breeze, Taskworld… and us, Drag App! 
Today, we will share benefits that you can have when applying the Kanban method in a small business, focusing on three main reasons why they can boost your productivity. You may take a step forward.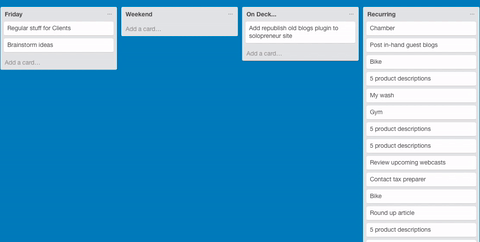 Kanban visuals make it easy to collaborate
Setting meetings, checking new promos, receiving reminders, talking business and amenities… Nowadays we all seem to have tons of responsibilities in our hands. And most of them come as messages straight into our inboxes. Even for small business, that doesn't mean there aren't lots of tasks to do. So, for small business Kanban can be perfect, since it helps you to visualize emails in a way that works for your mind.
When you have a small business, sometimes you forget to keep processes or don't think it's necessary. But if you continue to do so, you will probably face some issues. (This is not a threat, just facts). 
Jokes aside, it's important to track and create processes for everything. Sometimes it can be boring, but with a visual, dynamic and organized platform or method, you just have to click in some buttons and that's all. 
Collaboration impacts on productivity. In fact, there is a correlation between collaboration and workplace performance. According to a Stanford study, people who were primed to act collaboratively stuck at their task 64% longer than their solitary peers, whilst also reporting higher engagement levels, lower fatigue levels and a higher success rate. You see, collaboration can be the key to many issues. 
Kanban visuals will make you save time, delegate tasks in an easy way and keep your eyes on everything in real time. And why that? Because email collaboration, especially with a Kanban tool, allows transparency. Communication becomes faster and objective.
You align and delegate work much easier
As stated above, we are definitely living in the collaboration era. Over the past few years, we have seen many software and tools coming up with the intention of creating a more productive workspace that instigates collaboration. Companies are no longer expecting for individuality. Instead, they are looking for people who can connect and collaborate as a team.
These concepts and valorization of collaboration as a work tool are being spread to several software tools, work dynamics and processes. Many email software are allowing the Kanban tool view to go hand in hand with collaboration.
Aligning processes and delegating work are two really important steps every company should take. For a small business, Kanban can easily do it. You just need to click some buttons and voilà, your team is all set up and everyone has their tasks to be done. 
Controlling workflow becomes seamless
Remember when I said that it's important to do keep track? That's the topic. 
Controlling may seem like an absurd word, but it is not like that. Actually, it is a job that can do in so many ways. Kanban provides only a different (and better, we guarantee) one. No more pen and paper or post-its. No more folders, tabs, a million software. You just need to drag-and-drop. Literally.
By using a tool that makes visualization so simple, the time spent to manage work will reduce significantly. You might not see it changing overnight, but slowly everything will start feeling right. So you can check on what is everyone doing, their progress and what needs to be done.
Date, time, responsible member, tags… You can check everything in a way that you don't feel you are actually tracking someone's progress. And it makes work so much fun.

Drag: Kanban is just the beginning
Drag App is a Gmail extension that works as an email management solution for your company. It makes everything possible when it comes to track, organize, record and truly manage your inbox. A great option for small and medium businesses, Drag allows you to have a kanban board, just like Trello, in your own Gmail inbox. 
Everything works seamlessly together so you can have a clear understanding of the process. Besides Kanban, you get a CRM, Helpdesk and shared inbox: everything straight from your Gmail inbox! By centralizing and visualizing everything, Drag reduces the amount of time you spend on managing your emails and on transitioning among different tools. 
Here are some points Drag solves for you:
1. Emails (or standalone task) become cards;
2. You can add extra information such as notes, checklists and due dates;
2. Drag and drop your To Dos, so you know in which stage everything is;
3. Add and customize as many columns as you want;
4. Sort & filter your cards, so it's easy to find what is important;
5. Collaborate with your team. Share, delegate, get things done together.
6. Use multiple boards, so different projects don't get mixed up together.
With the kanban system on your inbox, everything will be clearer and easier. And to turn your inbox into a beautiful Kanban board, there is no need to open another browser. You just have to switch the button to turn it on or turn it off. Yay!
Conclusion
Kanban works perfectly fine for people who like to keep things organized, visual and easy to process. We are very used to see Kanban in applications and software. But why not a Kanban board view into an email? This is "routine-changing", especially for small business. 
All you need to do is start it out the right way. Get your inbox clean, delegate work, delete old messages and leave your inbox as a productivity machine you have never seen before. And we believe Drag is the right tool to make you and your business achieve so much more, so have a look at our features and check what we can do for your company.
We want you to save time, keep track, list your tasks, know what you are doing and, more importantly, be aware of everything and turn off the feeling of being lost in your own work.
In a nutshell: a life-changing characteristic such as a Kanban tool will help your work routine because: 
It is visual: it turns tasks into cards;
Simple to use: it breaks tasks into smaller and manageable pieces;
It is productive: it allows sorting and prioritisation of tasks.
This is innovative and reinforces team collaboration. We hope this article enlightened (and convinced!) you on reasons about why a small business Kanban enables productivity.
---
Learn more about the benefits in Shared inboxes. Download Drag's "The Ultimate Guide to Transform your Business with Shared Inboxes". We did it to create awareness in companies in what concerns increasing productivity by using online tools. Click on the button below:
Learn how to Transform your Business with Shared Inboxes by downloading our Ebook!
About Drag
Drag is a shared inbox, inside Gmail, for teams to manage emails, tasks, helpdesk and more from one single place. Try Drag for free.